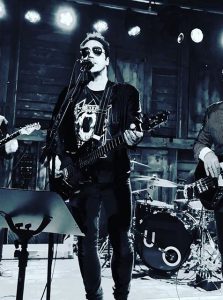 Over the course of more than a dozen years and involded in many studio albums, Glenn Lyse has continued to evolve, develop, and challenge himself as a musician. With SPIRIT, he makes his biggest creative leap yet.
Most notably, for the first time, Glenn Lyse acted as his own producer. While his last albums bore the stamp of strong producers.
"I've been wanting to produce my own record for a long time," he says, explaining that he met with numerous candidates before concluding that he should make the move. "What I wanted to provide was a place for musicians to come and feel they were able to express themselves, and contribute in their own voice the way I was able to contribute in mine."
Lee's sense of ambition for SPIRIT largely derived from his own live performing experiences in recent years. "Working with folks like the Aunt Mary and the Stavangerkammeratene opened my mind to the possibility of pushing the edges of arrangement away from solitary moments into more collaborative, community experiences," he says. "These were transformative creative opportunities that I never dreamed I would have. To stand on stage and be equal parts participant and observer during these career-defining  moments was such a thrill, and I credit the singers, arrangers, and conductors for being so open and generous to the songs."
Along with such monumental events as working with the music, being a band leader over the last decade has also helped Glenn  hone his craft as an arranger. "I have a great, great band—the most gentle, genuine, musically open-minded people," he says. "I push them some, but they always respond with creativity, and they inspire me to open things up musically. The versatility of my live band has been a gradual concept I've been working on since I started playing clubs . Back then, we would play three- or four-hour shows. I have on the road with me has re-inspired me to be more open, and less protective. I think SPIRIT reflects this attitude, and the vibrations are very much reflections of the connections.
"I've always loved such a wide range of music." Lee adds, discussing some new influences, which were pulling him toward a new sonic direction. "I've been listening to a lot of different music styles, the earlier stuff by The Weeknd, and I was wanting to open up that box a little more," he says. "I've always loved '90s R&B, and now with streaming services, it's so easy to sample so much new music."
To begin the new project, he began assembling musicians who he felt could blend a dynamic yet organic marriage of modern rhythm with classic instrumentation. "I chose the players because I had this instinct and hunger to challenge myself and expand,"says Glenn, "and the foundation of this record was built when I chose the rhythm section."